Walkytalkies- children's sock and sock puppet in one
Do your kids often have their socks on their hands instead of their feet?? At Walkytalkies You can find very hip kids socks that kids can also use as a happy sock puppet! .
Hip kids sock, happy sock puppet
Suppose you don't want to put your sock on yet, but you want to play with it for a while. To your hand that is. You can now do that with the happy sock puppet from Walkytalkies. Walkytalkies are quality socks and toys.
They let kids' imaginations run wild. Not a ready-made toy, but you don't need to have the most imagination as a child to play with this either. As a child you can totally express your fantasy as a tough pirate, happy horse, friendly crocodile, cute princess or tough cowboy.
The lost sock
It happens in every household: you've lost a sock and yet another pair has become incomplete… But true Walkytalkies never get bored! Two is a pair, one is a sock puppet. Fun to play with so no reason to throw away a lonely sock.
This one always finds another size to play with.
And they live happily ever after.
The findings
The boys received two pairs of Walkytalkies kids socks. The tough pirate and the tough cowboy. They are extremely enthusiastic. As I wrote, the youngest always comes downstairs with his socks on his hands anyway and now he can put on a whole theater piece at the table. The oldest does not fit the socks anymore, but he can play very nicely with the handsock.
The boys have even done a performance with the sock puppets, from behind the couch. Mom was a willing audience! The thumb goes right into the heel of the sock, so you won't break the sock with it either, when you use it as a hand puppet.
They also fit well as socks, are nice and warm and very cool. The socks come in sizes 23 to 30.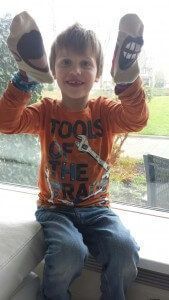 Interested in walkytalkies?
Walkytalkies are for sale on the site of Walkytalkies but also in several stores in The Hague, Amsterdam or Rotterdam and in Belgium. Are you curious, take a look at the site where the socks are sold in your neighborhood.
Read also: Ockyz Sweakers – socks for swimming (and not slipping)