Wild about Freek, who doesn't?
Wild from Freek, who isn't it these days? Read the comments below any facebook post of Freek Vonk himself, and you'll find some mothers who would like to go on an adventure with Freek too. Yep, same here.
When I received an invitation To be at the launch of Freek's new magazine I imaginatively went through my closet to find the perfect adventurous outfit.
Wild from Freek
I know, it's really not cool to be a mom fangirl To the hero of your eldest child. But how cool is it if you and your little man get to go to an awesome Freek Vonk afternoon in the beautiful entourage of the Tuschinski theater in Amsterdam? Right, very cool.
My little man really likes Freek and I would like to catch a few spiders with the biologist myself.
Launch of Wild by Freek
Dressed in a pencil skirt and Freek t-shirt we left for Amsterdam yesterday. By the way, the little man was wearing the Freek shirt, for those who doubted it. After a drive down the highway, fun on the streetcar and a bit of a walk, we arrived at the red carpet of the Tuschinski theater. There was a huge line of kids and, mostly, moms.
I spotted a father here and there but the mothers were clearly most represented.
After enjoying a nice drink and a delicious cupcake we searched for our spots.The little man was unstoppable. He felt he had been waiting for days so he bounced around the theater. After a long wait, his big hero finally took the stage. Together with his dragon Johan, Freek Vonk unveiled the cover of his new monthly magazine for children; Wild by Freek. The audience loved it and the camera's kept flashing.
My little man thoroughly enjoyed the show and the excitement.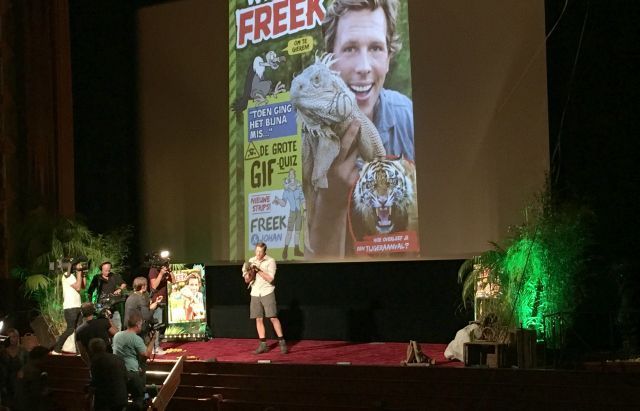 Monthly adventure magazine for children
Afterwards we all got a copy of the beautiful magazine Wild by Freek to take home with us. In the streetcar this was immediately looked at from front to back. Sick and tired of driving backwards I had to read everything to him.
He found it hilarious that Freek Vonk and Johan have their own comics and that sound engineer Bassie also appeared in them.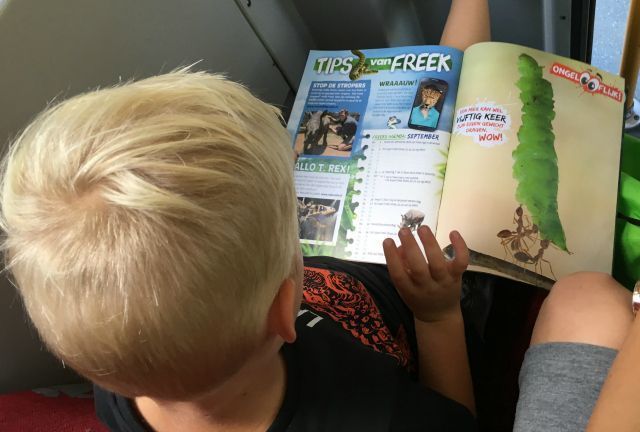 In the car home he was still looking at pictures and making up his own texts to go with them. Once home I had to read the magazine before going to bed. I managed to limit my reading to a few comics. There is much more fun to discover in the magazine.
I know what my little biologist-to-be dreamt about last night.
And mom? Who quickly flipped to the middle of the magazine looking for that fold-out centerfold poster of Freek. Unfortunately.
It does have a cool poster in it but Freek Vonk is really there dressed in a wetsuit posing with a shark. Well, it is a magazine for children.
As of today, the first issue of Wild by Freek is in stores. For all information I refer you to the website.
Are you going to buy the magazine? For yourself or for the kids? 😉
♥ ♥ ♥ Fulltime Mama uses affiliate links. This means that if you click on one of the links, we may get a small commission on it. It costs you nothing extra, but it does give us something. With these proceeds we can maintain this website. We also sometimes get paid for an article or receive a product in exchange for a blog post.
So our opinion remains unchanged and honest. For more information you can read the disclaimer. ♥ ♥ ♥