Promotion Wallprint from PrintCandy (closed)
We all have something on our wall. Some people only have pictures's or paintings on their wall. Do you find that a bit monotonous and do you want something different on your wall??
I got to pick out a super cute wallprint from PrintCandy. It was hard to choose because I loved them all. Do you want to give your interior a boost?
Read on because you can also win such'a wallprint of PrintCandy!
Wallprint from PrintCandy
PrintCandy is a great webshop where you can order the most fun and personalized wallprints and printables. With these you can give your interior something extra's without having to start painting immediately. A big poster with a personal text or just an art-print brightens up your home without having to make any rigorous adjustments.
The prints are all delivered on environmentally friendly paper and in various sizes. You can totally choose what you like.
Customize your wallprint
Don't you just want a standard saying in your room but a text that is really personal? At PrintCandy you can choose and customize the prints yourself. I personally chose a family print that I could personalize.
So I could choose the background color, text color, color of the birds and of course the dates.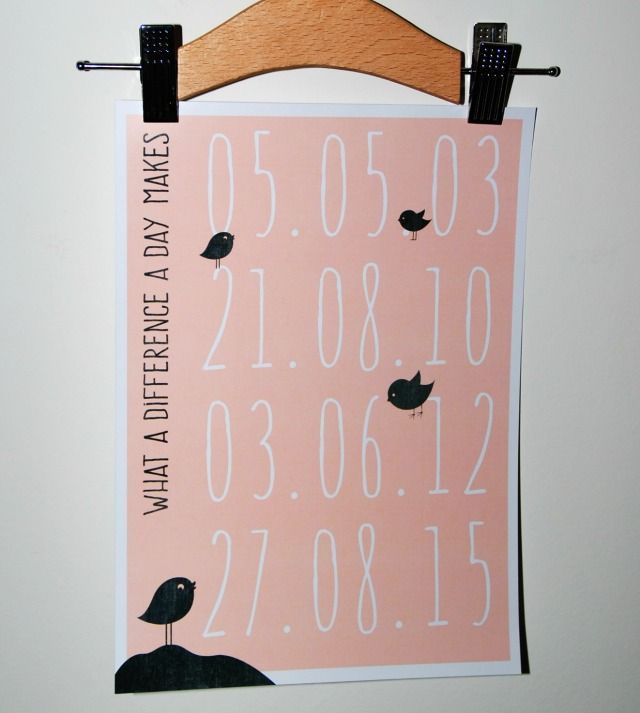 I chose the Special Bird Days wallprint because I could make it very personal but it wasn't too obvious. And of course, it's also a handy reminder for the spouse. 😉 On May 5 the husband and I got engaged, on August 21 we got married, on June 3 the little man was born and on August 27 the little lady.
Wallprint or printable
Besides a wallprint, which will be sent to your home, you can also choose a printable. These are several products you can print out yourself. Of course you can personalize these.
So you can print labels, tags, menus or even complete party packages yourself. I think they are super fun for the upcoming birthdays, the whole party in the same theme with personalized cards, flags and cups.
You really should go look for yourself in the webshop. You can find something for everyone.
Competition
From PrintCandy I can give away a gift voucher worth 25 euros, which you can spend on PrintCandy.en. Allows you to choose what you order. Maybe a birth poster or a family print or maybe a nice collage with various prints?
What you have to do?
Leave a comment below this article saying you want to win.
For an extra chance to win, like the facebook page or instagram of Bblogt.en (not required)
The winner will be notified personally by email on Sunday 31 January. Claim your prize within 48 hours and you can shop at PrintCandy.nl.
Participate already?
♥ ♥ ♥ ♥ Fulltime Mama uses affiliate links. This means that if you click on one of the links, we may get a small commission on it. It doesn't cost you anything extra, but it does earn us something. These proceeds will allow us to maintain this website. Also, sometimes we get paid for an article or we get a product in exchange for a blog post.
Our opinion remains unchanged and honest because of this. For more information you can read the disclaimer. ♥ ♥ ♥